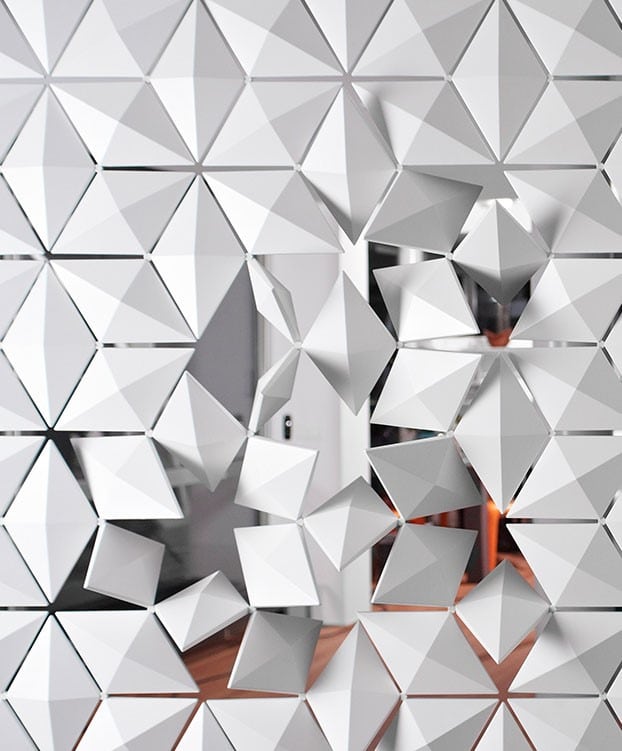 The screen of hanging room divider Facet consist of multiple, individual thin diamond-shaped elements we call "Facets". These geometric shapes can be individually rotated 360º around their axis.
The Facets allow you to create amazing screen patterns, play with light and transparency of the screen with just the flip of a diamond! It is both beautiful and functional as a room divider.
Hanging room divider Facet is a 100% modular system, available in literally every size and shape you would possible imagine. We offer all screen dimensions to enhance residential spaces like your living room, bedroom or kitchen. But also larger commercial or public areas like a hotel, restaurant, office or reception.
For most scenarios, we offer 117 common sizes online. But due to its modular system, we can easily create a much larger hanging room divider. It is even possible to form entire stunning walls. The possibilities are endless. Be creative!
We offer various colors for the diamond-shaped Facet elements and frame parts which form the screen of the hanging room divider. White, Graphite, Pearl Gray, Pale Blue, Dijon or Chestnut – take your pick. Each of these colors give room divider Facet its own character and distinctive style to fit your interior best.
The ceiling attachments which mount the hanging room divider to the ceiling are made of brushed stainless steel.
Hanging room divider Facet is designed as a sustainable product consisting of high quality materials. Facet is fire retardant, UV resistant and anti-static.
Easy Installation.
Fits Every Ceiling.
Hanging room divider Facet comes with a clear 6 step instruction guide. Due to its smart modular design, assembly and installation is a breeze. Being light weight (only 4500 grams per m2), our hanging room divider Facet is easy to attach to every ceiling and material.
Curious to see the installation of one of our dividers? Let's have a look at this video:
Love the style of our hanging room divider Facet but don't have a ceiling available for mounting? Check out our new Freestanding Room Divider Facet. You can place and move it everywhere!
Hanging room divider Facet comes in 6 different colors. We can imagine it's tricky to pick your most favorite color online. The Facet Color Sample is the best way to evaluate the available Facet colors in real-life before you place your order.