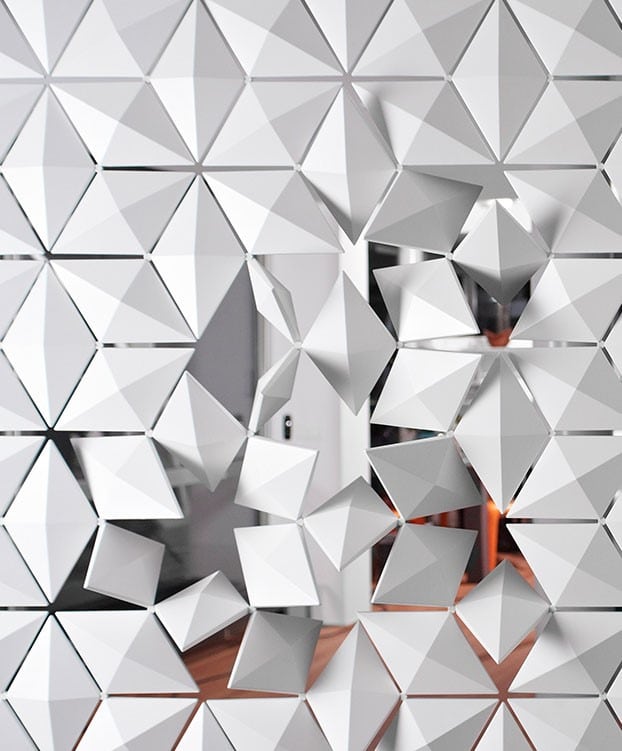 The screen of hanging room divider Facet consist of multiple, individual thin diamond-shaped elements we call "Facets". These geometric shapes can be individually rotated 360º around their axis.
The Facets allow you to create amazing screen patterns, play with light and transparency of the screen with just the flip of a diamond! It is both beautiful as functional as a room divider.
Hanging room divider Facet is a 100% modular system, available in literally every size and shape you would possible imagine. We offer all screen dimensions to enhance residential spaces like your living room, bedroom or kitchen. But also larger commercial or public areas like a hotel, restaurant, office or reception.
For most scenarios, we offer 117 common sizes online. But due to its modular system, we can easily create a much larger hanging room divider. It is even possible to form entire stunning walls. The possibilities are endless. Be creative!
We offer various colors for the diamond-shaped Facet elements and frame parts which form the screen of the hanging room divider. White, Graphite, Pearl Gray, Pale Blue, Dijon or Chestnut – take your pick. Each of these colors give room divider Facet its own character and distinctive style to fit your interior best.
The ceiling attachments which mount the hanging room divider to the ceiling are available in 2 different finishes: stainless, brushed steel or white powder coated aluminum.
Hanging room divider Facet is designed as a sustainable product consisting of high quality materials. The facet elements are fire retardant, UV resistant and anti-static.
Easy Installation.
Fits Every Ceiling.
Hanging room divider Facet comes with a clear 6 step instruction guide. Due to its smart modular design, assembly and installation is a breeze.
Being light weight (only 4500 grams per m2), our hanging room divider Facet is easy to attach to every ceiling and material. The ceiling attachments provide a 23 cm space between the ceiling and the divider screen. If required, we can customize this length to your specific project requirements.
You might be curious how hanging room divider Facet and its materials look & feel like. Our products are exclusive available through Bloomming. To experience the materials in real life, please check out our sample kit!
Love the style of our hanging room divider Facet but don't have a ceiling available for mounting? Check out our new Freestanding Room Divider Facet. You can place and move it everywhere!
What Our Clients Are Saying:
Beautiful Design

Divider Facet offers great interaction, is an effective product and is easy to install and the customer service is friendly and helpful.

Carol Diaz France Room divider Facet 10 May 2017
Super Design

The service and the delivery was perfect. After installation of room divider Facet, we had some issues with the stability of some of the connections, but after some minor adjustments this was solved. To conclude: I would definitely buy room divider Facet again.

Andreas Brand Switzerland Room divider Facet 13 April 2017
Modern & Playful

I really enjoy the artistic design and the geometric pattern of room divider Facet and the fact it arrived in Southern California within a week. Quality is nice and thoughtful with spare parts.

Marie Chang United States Room divider Facet 7 March 2017
An Artistic Piece of Art!

It was a great online purchase experience for me, as Bas was so patient in responding to all my questions before I placed my order. As I was renovating my house, I had to delay my purchase of the divider facet for about 5 months. I was pleasantly surprised that Bas remembered my enquiries and wrote me a follow-up email to inform me of stock availability. My husband installed it and both of us are totally enchanted by it. As much as it is a divider facet, it is also a great art piece to be admired! Thank you Bas for such a simple yet amazing and impactful design!

Karen Ng Singapore Room divider Facet 13 February 2017
What a Fantastic Product

Room divider Facet is a fantastic product to work with. People are really opening and closing the Facet walls in the office very often. Creating different patterns and shapes. Which gives a great impact to personalizing the workspace, or any space. It was great working with Bas and Bloomming.

Monica Straathof Ideal Projects - The Netherlands Room divider Facet 3 February 2017
Quick and Easy

Room divider Facet is a top product, it's modern and original. Customer service was extremely prompt and efficient. We received the product very fast and installation was a breeze. It is just fabulous, it looks great in our restaurant and our guests just love it!

Edith Janody Le Place Neuve - France Room divider Facet 2 February 2017
Flawless, Simple & Impressive

Facet room dividers: overall faultless! Very quick shipping. Environmentally sound packaging. Classy, simple instructions and communication material. Managed to install the product myself quite easily. LOOKS FANTASTIC of course; striking without being OTT. Speedy, friendly customer service when assistance with a further order was requested. I love dealing with companies who are brilliant at what they do, and Bloomming is exactly that.

Jacqui Young C/-Rothbury - New Zealand Room divider Facet 12 December 2016
I Love It

Starting from the name Bloomming, the first thought that came into my mind was something that blossoms and must be full of beauty. A first glance at it was enough for me to love it! I have never seen before a room divider that is so minimal yet impressive! I really love geometric shapes and this concept is one of a kind. Now that I have it in my living room I'm so excited, it gives a touch of art in my place. Last but not least at all, the customer service was really great all the way.

Christiana Leontiou Cyprus Room divider Facet 8 December 2016
As Beautiful as on the Website

I liked room divider Facet from the very beginning since its introduction. Eventually, I bought it. The design looks just as beautifully in real life as it looks on the website. To me it is both functional and a jewel. Its interactive design allows me to alter the looks and the amount of light I want it defuses. At last, I want to thank Bas for his great and personal customer service!

Marion Jacobs The Netherlands Room divider Facet 21 November 2016
So Many Compliments

Great customer service and Bas was so helpful in helping me get the dividers in time for our business. I have so many compliments on how beautiful the dividers are. Love them and will order again for upcoming projects. Very Professional team and the design of divider was so clever . It creates an art piece and inviting atmosphere.

Jenny van Lavish Nail - USA Room divider Facet 3 November 2016
Great Customer Service

Some parts were lost/damaged during shipment but we were able to contact Bas easily and he sent out the missing parts the same day. Great customer service!

Stephanie Michler Virtually Live - USA Room divider Facet 13 September 2016
Fast And Easy!

Bas was very friendly helping us through the design and ordering process of our room divider Facet. He provided answers quickly. The ordering was smooth and the delivery really fast!

Lindsey Theobald Feldman Architecture - USA Room Divider Facet 23 June 2016
Looks Terrific In Our Office!

Great customer experience all around. Friendly and efficient support when needed. Our divider Facet looks terrific in our office and was easy to install!

Alexandra Silverman Founders Fund - USA Room Divider Facet 17 June 2016
Easy And Efficient!

Very pleased with this clever and very nice product. Easy to order speaking directly to Bas. Easy to install, playing with all facets as much as you want to. Nice stainless steel supports. To recommend!

Pascale Ohanna Decoral Conception & Réalisation - France Room Divider Facet 26 May 2016
Very Nice & Beautiful

The room divider Facet is a very nice and beautiful product! Production of a custom made room divider and its shipment was very quick! Many thanks to Bloomming for their excellent service! Bloomming is a pleasant company to work with!

Nargiz Javadova Italdizain - Azerbaijan Room Divider Facet 17 May 2016
Very Pleased

The room divider Facet really is a good product. I was very pleased when it arrived, it is of excellent quality, easy to use and very effective in what it's designed to do. It is really engaging in a simple way. Bloomming is a great company to do business with, very helpful and pleasant to talk to. Both its product and company are highly recommended!

Ashley Joy Island Marketing Limited - United Kingdom Room Divider Facet 18 April 2016
Great Product

Blooming's room divider facet is a great product. It does wonders for dividing a room or space and can easily create a different atmosphere. Very quick delivery and good customer communication. Installation is easy although it takes some time.

Rupert Schaefer Switzerland Room Divider Facet 18 April 2016
Excellent Service

I purchased the room divider Facet. Bloomming provides excellent service and is everything you expect from a company from the consumer point of view.

Cristian Butcaru Romania Room Divider Facet 18 April 2016
Highly Recommended

The room divider Facet is highly recommended if anyone wants to add contemporary touch to your home, easy installation and great customer service.

Xiaoxi 2LA - USA Room Divider Facet 22 March 2016
The Facet Divider is the Ultimate!

We love the Blooming Facet Divider. As an Architect I can appreciate the innovative design, quality, and beauty of the product. Blooming was very responsive and willing to customize the product to seamlessly fit my application. I will use this product again! Please keep designing such cool products.

Randy Sherman Three Rivers Corporation - USA Room Divider Facet 1 February 2016
Diamond Crystals In Our Living Room

The room divider Facet has an original, unique and very special design. It is very nice as a decorative element which also serves functionally by dividing spaces in a modern, unconventional and unconservative way. It is ideal for small rooms because of its size and attachment to the ceiling. It is also great for bigger spaces because of its propensity to transform 3D. My son calls it "the diamond crystals in our living room". The customer service is amazing, very polite, very fast and very effective. The room divider Facet was easy to install and arrived very soon after ordering. Most importantly, you can extend or transform it anytime, like Lego! Highly recommended!

Despoina Papadopoulou Greece Room Divider Facet 1 February 2016
Great Product & Excellent Service

We are really happy with the beautiful room divider Facet! The delivery was swift and installing was easy thanks to the clear manual. Facet makes the room special and we would definitely use it again in our next projects! Bloomming is a pleasant company to work with!

Anne Kleinbloesem Baas & Kleinbloesem - The Netherlands Room Divider Facet 1 February 2016
Excellent Customer Service

We are highly satisfied with the room divider Facet: it is a beautiful product, which is easy to install and absolutely very original. The packing for shipment is very suitable for long distance transport (we had the room divider shipped to Argentina). The service we received, before and after purchase of he divider, was indeed excellent! We strongly recommend the room divider Facet and Bloomming as a company.

Alejandro Staccioli CABB - Argentina Room Divider Facet 23 November 2015
Outstanding

The room divider Facet is an outstanding product, which is beautifully designed. The facet screen is a truly stunning element and a true addition to ANY interior space. We were so delighted with the product and the friendly professional services provided by Bloomming.

Louise Kollosche Kodesigned - Australia Room Divider Facet 18 November 2015
Well Above The Expected

The online shop platform and the product brochure was quite useful to select the best placement and perfect size for my room divider Facet. You would expect a design studio to have excellent customer service, but the Blooming story goes well above the expected. Blooming has a flexible and a very polite customer service, is the perfect dealer and highly recommended 🙂

Albert Santa Syngenta - Hungary Room Divider Facet 9 July 2015
I Am Delighted

I am delighted the room divider Facet! The room divider is a lightweight product, simple to install, modular and brings a real deco element to offices. It is fun to play around with the facets to obtain a surface which is more or less opaque. The room divider curtain is strong, solid and fixed tight on its mountings, and is really flexible. Highly recommended!

Sophie Louvet Home & Office Design - France Room Divider Facet 7 July 2015
Met & Exceeded My Expectations

I purchased a room divider Facet from Bloomming and the entire process was swift, correct and soundly. The delivery was quick and the installation instructions were good and very clear. Thanks!

Rineke van Spanje The Netherlands Room Divider Facet 5 July 2015
More Than Satisfied

For the fabulous room divider Facet, we are more than satisfied! Bloomming is a great creative company with the best products. We used the room divider as decoration for the window next to our front door and it is a true eye catcher!

Gijs Coolen Project 040 - The Netherlands Room Divider Facet 25 June 2015
Breathtaking

After seeing Bloommings products on-line I was able to contact them effortlessly and purchase a very large Facet room divider for a recent project. The entire process from ordering and delivery was not even four weeks. Some assembly is required, but the end result is breathtaking!

Doug Shapiro Hoyt Living - USA Room Divider Facet 25 June 2015
What The Press Is Saying:
Hanging Room Divider Facet
Rated 4.9 out of 5 based on 53 reviews