Meet Room Divider Facet – The Renowned Hanging & Freestanding Room Divider System
Facet Hanging Room Divider
The Facet suspended room divider is perfect for dividing the space in rooms. It does this stylishly through capturing and reflecting light. The individual geometric diamond shapes can rotate independently, creating beautiful patterns of light and shade. We have 117 popular sizes in 6 colors available from stock.
Facet Freestanding Room Divider
Freestanding Room Divider Facet is the ultimate freestanding space divider. It is a wonderful designer piece that does not only look stunning in its own right, it divides spaces elegantly. As the screen is modular, it is available in 36 different sizes and in a beautiful range of contemporary sophisticated colors.
A Selection Of Our Most Popular Facet Room Dividers
The Invisible Hallway Divider
Product: Facet Hanging Room Divider
Width: 170cm
Height: 230cm
Color: White
€ 1770
The Waiting Room Divider
Product: Facet Hanging Room Divider
Width: 136cm
Height: 230cm
Color: White
€ 1410
The Restaurant and Bar Partition
Product: Facet Freestanding Room Divider
Width: 136cm
Height: 219cm
Color: White
€ 1900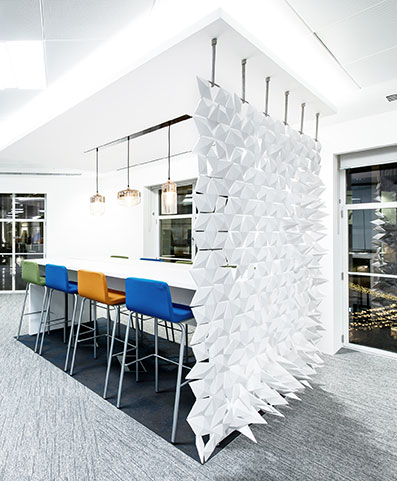 The Open Office Plan Hanging Screen
Product: Facet Hanging Room Divider
Width: 204cm
Height: 230cm
Color: White
€ 2120
The Entrance Privacy Screen 
Product: Facet Hanging Room Divider
Width: 170cm
Height: 249cm
Color: White
€ 1930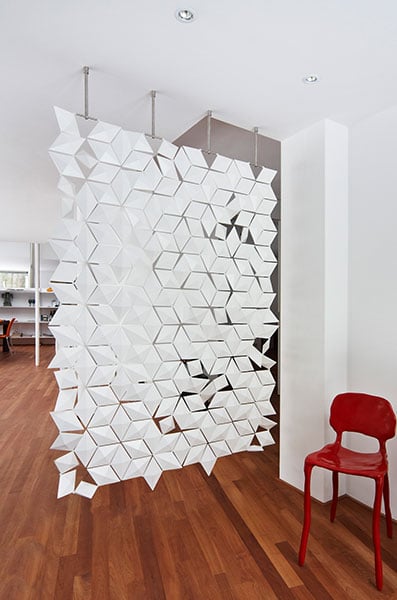 The Front Door Room Divider
Product: Facet Hanging Room Divider
Width: 136cm
Height: 210cm
Color: White
€ 1280
The Small Office Divider
Product: Facet Hanging Room Divider
Width: 136cm
Height: 112cm
Color: White
€ 687
The Decorative Wall Panel
Product: Facet Hanging Room Divider
Width: 306cm
Height: 288cm
Color: White
€ 3970
The White Shop Divider
Product: Facet Hanging Room Divider
Width: 170cm
Height: 288cm
Color: White
€ 2200
The TV Wall Separation
Product: Facet Hanging Room Divider
Width: 136cm
Height: 249cm
Color: White
€ 1540
The Room Divider Color Sample
Product: Facet Hanging + Freestanding Room Divider
Quantity: Choose up to 6 color samples
Colors: White, Graphite, Pale Blue, Pearl Gray, Dijon or Graphite
€ 40  €30
The Wall Decoration Screen
Product: Facet Hanging Room Divider
Width: 102cm
Height: 230cm
Color: White
€ 1060
The Booth Divider
Product: Facet Hanging Room Divider
Width: 238cm
Height: 249cm
Color: White
€ 2700
The Room Divider For Small Spaces
Product: Facet Hanging Room Divider
Width: 68cm
Height: 230cm
Color: White
€ 707
The Restaurant Divider
Product: Freestanding Hanging Room Divider
Width: 170cm
Height: 219cm
Color: Pearl Gray
€ 2140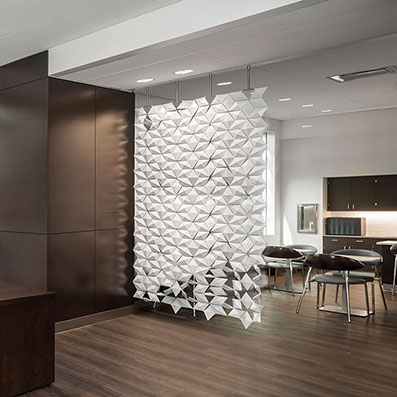 The Hospital Hanging Screen
Product: Facet Hanging Room Divider
Width: 136cm
Height: 269cm
Color: White
€ 1640
The Hanging Separation Wall
Product: Facet Hanging Room Divider
Width: 238cm
Height: 230cm
Color: White
€ 2470
A Selection Of Custom Made Facet Room Dividers And Their Unique Features
The Black and White Room Divider
Product: Facet Hanging Room Divider
Width: 204cm
Height: 288cm
Color: Graphite & White
€ 2650
The Suspended Hotel Divider With Custom Length Ceiling Attachments
Product: Facet Hanging Room Divider
Width: 68cm
Height: 346cm
Color: White
€ 957
The Large Space Divider With Flexible Wire Hanging System
Product: Facet Hanging Room Divider
Width: 306cm
Screen Height: 197cm
Wire System Length: Adjustable 1 – 185cm
Wire System Material: Stainless Steel Ø 1mm
Color: Graphite
€ 2870
The Office Divider With Company Logo Cut Out
Product: Facet Hanging Room Divider
Width: 646cm
Height: 288cm
Color: White
€ 8390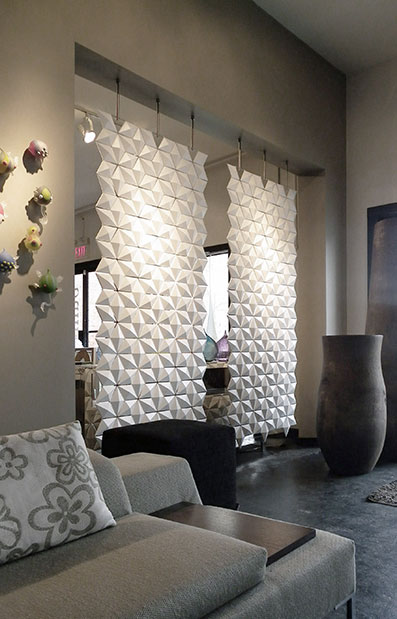 The Double
 Room Divider
Product: 2x Facet Hanging Room Divider
Width: 2x 136cm
Height: 249cm
Color: White
€ 3080
The XL Office Divider
Product: Facet Hanging Room Divider
Width: 408cm
Height: 288cm
Color: White
€ 5300
The White Divider With XL White Ceiling Attachments
Product: Facet Hanging Room Divider
Width: 136cm
Height: 359cm
Color: White
€ 1690
The Golden Ceiling Attachment
Product: Ceiling Attachment For Facet Hanging Divider
Lenght: 23cm
Material: Brushed Aluminum
Finish: Gold Anodized
€ 85
The Open Office Plan Divider With XL White Ceiling Attachments
Product: Facet Hanging Room Divider
Width: 204cm
Height: 359cm
Color: White
€ 2690
The Sliding Room Divider 
Product: Facet Freestanding Room Divider
Special: Prepared For The Use In Any Sliding Rail
Width: 170cm
Height: 258cm
Color: Graphite
€ 2360
Flexible Wire System 
Product: For The Facet Hanging Room Divider
Special: Replaces The Regular 23cm Ceiling Attachments
Wire System Length: Adjustable 1 – 185cm
Wire System Material: Stainless Steel Ø 1mm
€ 0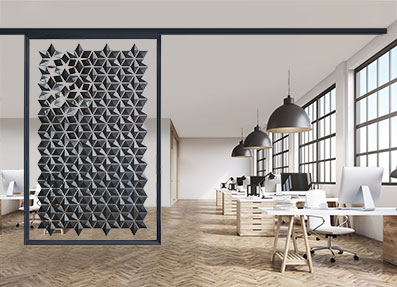 The Sliding Office Room Divider 
Product: Facet Freestanding Room Divider
Special: Prepared For The Use In Any Sliding Rail
Width: 170cm
Height: 258cm
Color: Graphite
€ 2360
Custom Screen Color
Product: For Facet Hanging & Freestanding Room Divider
Special: If our range of stock colors does not meet your requirements, we can supply almost any NCS or RAL color upon request.
Leadtime: 9 weeks
€ 690
The Wide Bedroom Separation Screen
Product: Facet Hanging Room Divider
Width: 340cm
Height: 131cm
Color: White
€ 1974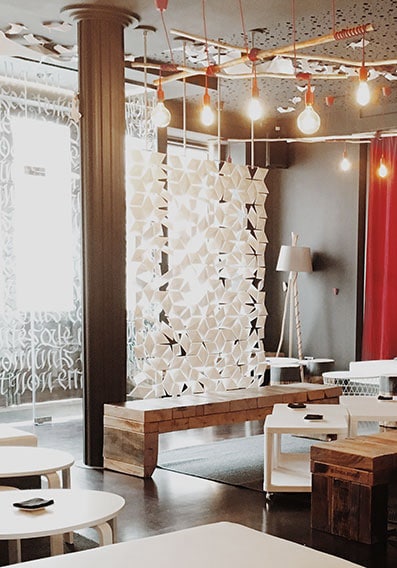 The Cocktail Bar Divider With Custom Length White Ceiling Attachments
Product: Facet Hanging Room Divider
Width: 136cm
Height: 365cm
Screen Color: White
Ceiling Attachments Color: White
€ 2030